Why Bichi deserves a first class emirate
Mahmoud Abdullahi Bichi
The creation of four first class emirates out of the present Kano Emirate is a commendable act that must be appreciated by all.
I wholeheartedly support the establishment of the Bichi Emirate for several reasons, some of which I enumerate below.
Firstly, it is in accordance with a long held desire of the people. I can recall that in 1992 a report by the Kano state House of Assembly indicated that Bichi people overwhelmingly supported the creation of a first class emirate in the city.
The House committee visited the palace of the Sarkin Garin Bichi on July 28, 1992 where they conducted a town hall meeting on the need to create new emirates.
Just In: Kano lawmakers disagree on new Kano emirates bill
Stop creation of new emirates to avoid tragic end–Sheikh Dahiru Bauchi warns Ganduje
Ganduje has no right to recognize court dissolved emirates – lawyer
Kano gov't approves fresh bill to restore 4 emirates sacked by court
Secondly, the two main purposes of the Shehu Usman Dan Fodio Jihad were to achieve Islamic reform and free the Fulani people from the oppression of Habe Emirs.
These motivated the Fulani scholars into waging a war against the Habe rulers and taking over their kingdom to achieve social development.
I believe that in this democratic age, there is no harm in creating new emirates without recourse to wielding swords in a battlefield.
Creating a first class emirate in Bichi will not harm our traditions but rather strengthen and promote them.
Social Development
In addition, as much as the creation of states and local governments cause social development by bringing the people closer to their rulers, so also the creation of new emirates spurs development.
For example, in less than three months since the creation of the Bichi Emirate, we have witnessed significant development in terms of culture, security, economy and physical developments.
Therefore we need to support this institution as a catalyst for development.
Thirdly, we must agree that times are changing. Executive, legislative, and judicial powers used to be vested in our traditional rulers.
But that is no longer so.
We now operate a totally different system where the emirs are subservient to our elected representatives.
Therefore, we should accept the actions of our own government in good faith.
Bichi – Cradle of Kano Emirate
Fourthly, and perhaps most importantly, all the four newly created emirates have historical reasons that validate their claims to first class emirate status.
In the case of Bichi, it was the home of the leader of the Fulani Jihadists, Malam Muhammadu Danzabuwa.
Malam Danzabuwa's Danejawa clan played a significant role in the establishment of the Fulani emirate of Kano in 1807.
It is therefore pertinent to note that Bichi is the cradle of the present day Kano emirate.
In a presented in Kano in 2004, a historian, Ibrahim Alfa Adamu traced the contributions of Bichi people under Malam Danzabuwa in overthrowing Alwali, the last Habe emir.
Worthy of special mention is the battle of Rafin Bela in Bichi when Alwali attacked Malam Danzabuwa's people due to the series of victories they have recorded against his forces.
Based on these submissions, I believe every sane person, who wants to witness the peaceful development of Kano state must surely realize that Bichi deserves to be a first class emirate.
Mahmoud Abdullahi Bichi writes from Bichi city, Kano.
EFCC Grills Rabiu Kwankwaso
The Economic and Financial Crimes Commission (EFCC) on Saturday grilled former governor of Kano State, Rabiu Musa Kwankwaso over allegations of abuse of office, diversion of public funds and fraudulent allocation of government properties to cronies.
KANO FOCUS reports that Kwankwaso, a chieftain of the Peoples Democratic Party, was first invited by the EFCC in September but failed to honour the invitation as reported by Channels TV.
An associate of the politician informed Channels Television that Kwankwanso may have been invited in relation to a petition by some retired employees of the Kano State Government.
The retired employees had told the EFCC that the former governor mismanaged pension remittances to the tune of N10 billion between 2011 and 2015, to fund a housing project for his cronies.
EFCC spokesperson, Wilson Uwujaren did not comment on the interrogation of the former governor when contacted on Saturday.
Crisis rocks Kano APC as Ganduje, Shekarau hold parallel Congress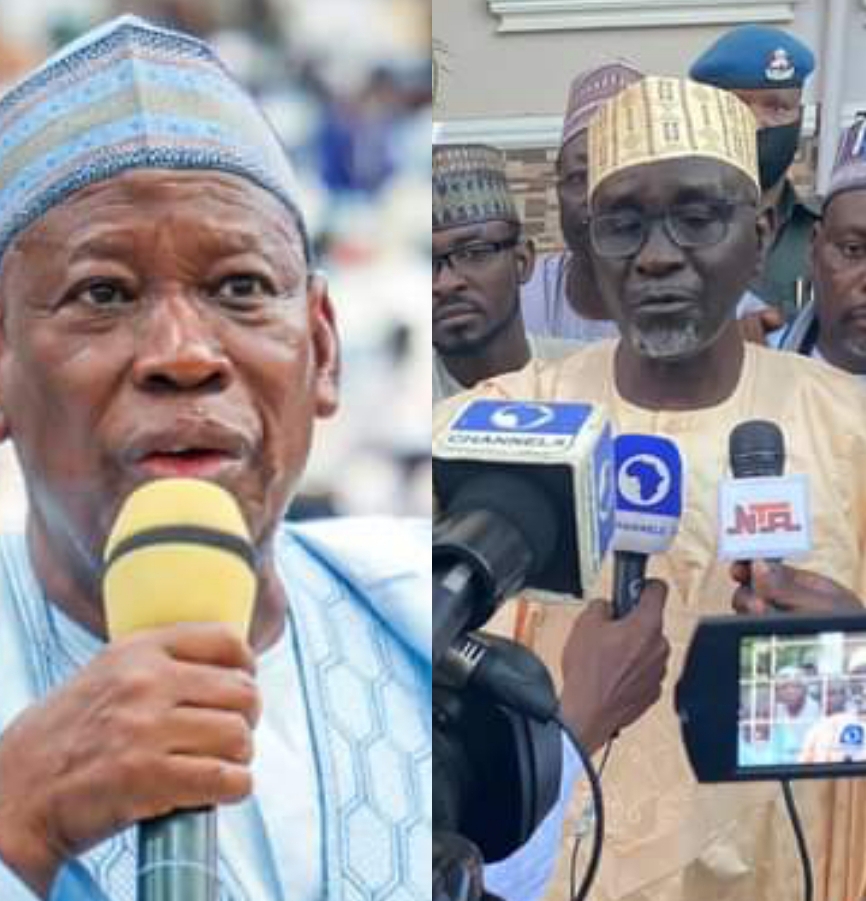 Aminu Abdullahi
Crisis rocked Kano chapter of All Progressive Congress (APC), as Governor Abdullahi Umar Ganduje and faction loyal to former governor of Kano and serving Senator Ibrahim Shekarau held parallel state congress.
KANO FOCUS reports that while Ganduje group held their congress at Sani Abacha stadium, faction loyal to Shekarau had their own at Janguza town, Tofa local government area.
Ganduje's led group endorsed Abdullahi Abbas as state chairman of APC for a second term in a consensus arrangement, while the faction loyal to Shekarau announced Ahmadu Haruna Zago as newly elected chairman of APC in Kano state.
Reports shows that the security have earlier disrupted Shekarau's camp congress at Sani Abacha youth centre and sealed the premises before they moved to Janguza where they held the election.
Below are some pictures of the parallel Congress.
NCC moves to address poor network service at densely populated Kano markets – Prof Danbatta.
Nasiru Yusuf
The Executive Vice Chairman of the Nigerian Communication Commission (NCC) Umar Garba Danbatta says the commission will address the poor network at Kantin Kwari, Sabongari Singer and Kurmi markets.
KANO FOCUS reports that Danbatta announced revealed this while responding to complaint raised by a participant at a two day stakeholders consultative meeting tagged 'talk to the regulator' organised by Nigerian Communications Commission in Kano.
The complainer noted that that there is poor telecommunications service in Kantin Kwari, Sabongari, Singer and Kurmi markets in Kano metropolitan area.
Danbatta responded that the commission will deploy investigative team to determine the nature of the problem and proffer solution.
"We have the capacity to monitor the performance of MNOs, that is the most important thing. Because of this valid observation by our stakeholder, we are going to direct our searchlight in those areas where we think the quality of service needs to improve.
"And if it is necessary, we will send the investigative team what is the nature of the quality of service in such places with a view to improve the quality of the service," Danbatta said.
The Executive Vice Chairman explained that the commission considers stakeholder feedback "as a critical component of our forward – looking regulatory model."
"Hence, the overarching objective of this forum is to get direct feedback from our licensees on how we, as a regulator, are meeting your expectations, and on areas where we can improve our regulatory service, particularly those that have to do with licensing.
"We also intend to use this forum to seek your support for the several initiatives that the commission has carefully developed in our quest to enhance market opportunities for all our licensees."
Danbatta added that the commission will focus it's energies for the next five years on five strategic pillars.
The pillars according to him include "organisational renewal for operational efficiency and regulatory excellence.
"Facilitate the provision of infrastructure for a digital economy which fosters national development.
"Improve quality service (QoS) for enhanced consumer quality of experience (QoE).
"Promote fair competition, inclusive growth, increased investment and innovative services as well facilitate strategic collaboration and partnership."
He disclosed that the federal government has articulated a number of critical policy objectives for the sector such as those articulated in the National Digital Economy Policy and Strategy (NDEPS), the Nigerian National Broadband Plan (2020-2025), the Revised National Digital Identity Policy for SIM Registration among others.
He added that the instruments require the full and unalloyed commitment of all stakeholders to ensure their successful implementation, and the meeting in Kano would provide a veritable channel for licensees' buy-in.
In his address the Director of Licensing and Authorisation Department, Mohammed Babajika, said the commission is further liberalising the telecoms industry by finalising the framework for Mobile Virtual Network Operators (MVNOs) and is currently reviewing existing regulations.
"The Commission is also finalising the Information Memorandum (IM) for 5G deployment, emerging trends like Internet of Things (loT), Artificial Intelligence (AI), Over The Top (OTT) Services and Big Data Analytics, all aimed at initiating strategies to improve service delivery that is accessible and affordable.