I'm still a PDP member–Ganduje's commissioner
Mukhtar Yahya Usman
Sadiq Wali, the Kano state Commissioner for Water Resources has reiterated that he is still an active member of the opposition People's Democratic Party (PDP) despite his position in the ruling All Progressives Congress (APC) administration of Governor Abdullahi Umar Ganduje.
KANO FOCUS reports that Mr Wali had raised eyebrows after his pictures emerged on social media platforms clutching a PDP membership card which he was said to have acquired alongside his father, Ambassador Aminu Wali, a former minister of foreign affairs and Bello Hayatu Gwarzo, a former senator.
The trio was said to have acquired the opposition membership cards last Saturday reportedly to avoid being expelled from the party for alleged anti-party activities.
The Kano PDP split
It could be recalled that the PDP in Kano state had split into two factions after the elder Wali–whose son Sadiq had attempted to contest for the 2019 governorship election in the state was–forced out of the race by Rabiu Kwankwaso, a former governor of the state, who anointed his protege, Abba Yusuf as the PDP's candidate.
After Mr Ganduje defeated Mr Yusuf in the 2019 elections, the anti-Kwankwaso PDP faction, led by Yahaya Bagobiri visited and congratulated Mr Ganduje on his election as governor of the state.
According Mr Bagobiri, who led the delegation, their support for the APC was not against the interest of their own party.
"We did it in the open and also through the media. That our people should support governor Ganduje in his second term bid. Which we all did. What we did was simply efforts in strengthening democratic structures and principle of free and fair choice.
"With this victory Your Excellency, we can say Allah saved us, Kano and its people from that tyranny. This is what we have been yearning for Your Excellency. That was why we came in block and supported your candidature, which yields fruits at the end of the day," Mr Bagobiri had said.
Other members of the delegation included Aminu Wali, Akilu Sani Indabawa and Bello Hayatu Gwarzo.
In his response, Mr Ganduje welcomed the opposition chieftains and invited them to participate in an "all inclusive government as a show of appreciation and respect for the harmonious working relationship between him and the 'original PDP members' in the state".
'We answered Ganduje's call'
But in his reaction to the speculations, Mr Sadiq Wali told KANO FOCUS that he had never left the PDP even after his appointment as commissioner, noting that Mr Ganduje called them to build an inclusive government.
"It's not good for you journalists to speculate on something that did not happen.
"When I was invited the Kano state government told us it will form an all inclusive government.
"I have never collected a membership card from any other political party apart from my own political party the PDP.
"If I wanted to join the APC it would not be a shame for me and I will announce it everywhere, but I'm not willing to do so.
"Soon after Governor Ganduje won the supreme court verdict, he reiterated that he wanted an all inclusive government. So, I don't know why people are trying to create problems," he said.
The commissioner however blamed the Kwankwasiyya movement (led by Mr Kwankwaso) for "bringing destruction and disintegration in the PDP", forcing them to join the opposition APC.
"We have been maltreated by the Kwankwasiyya faction. It's not fair to us. Now somebody has won and asked us to help him. Do you expect us to reject him," he asked.
"I'm willing to help Governor Ganduje since he invited us to help him in his government because he has faith in me," Mr Wali added.
Photo News: Emir Sanusi visits Sultan of Sokoto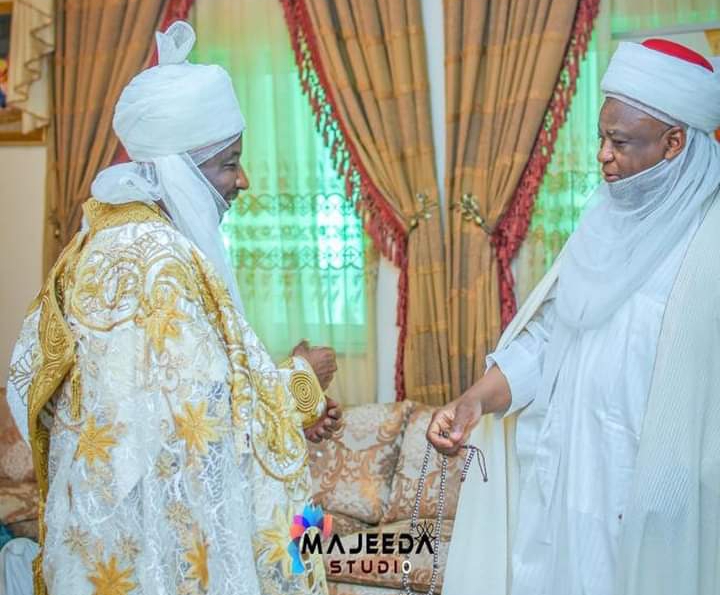 The former Emir of Kano has on Monday paid a courtesy visit to Sultan of Sokoto Muhammad Sa'ad Abubakar lll.
Kano Focus reports that the pictures of the visit were published on a Facebook page linked to former Emir named 'Sanusi ll Dynasty'.
Though the reason of the visit was not stated, but the former Emir has paid similar visit to Lamido of Adamawa in his capacity as leader of Tijjaniyya sect in Nigeria.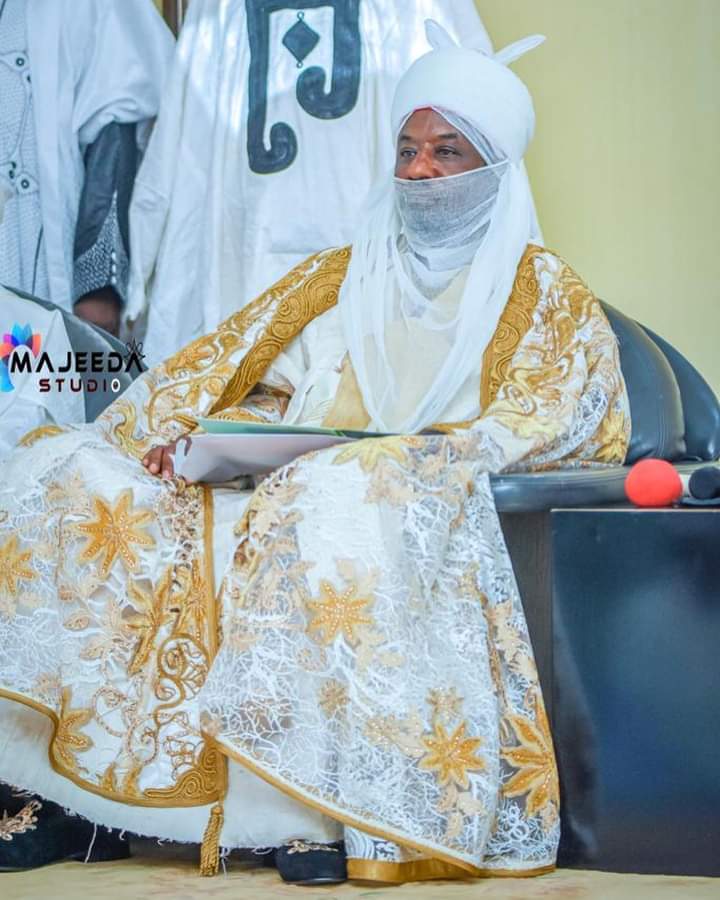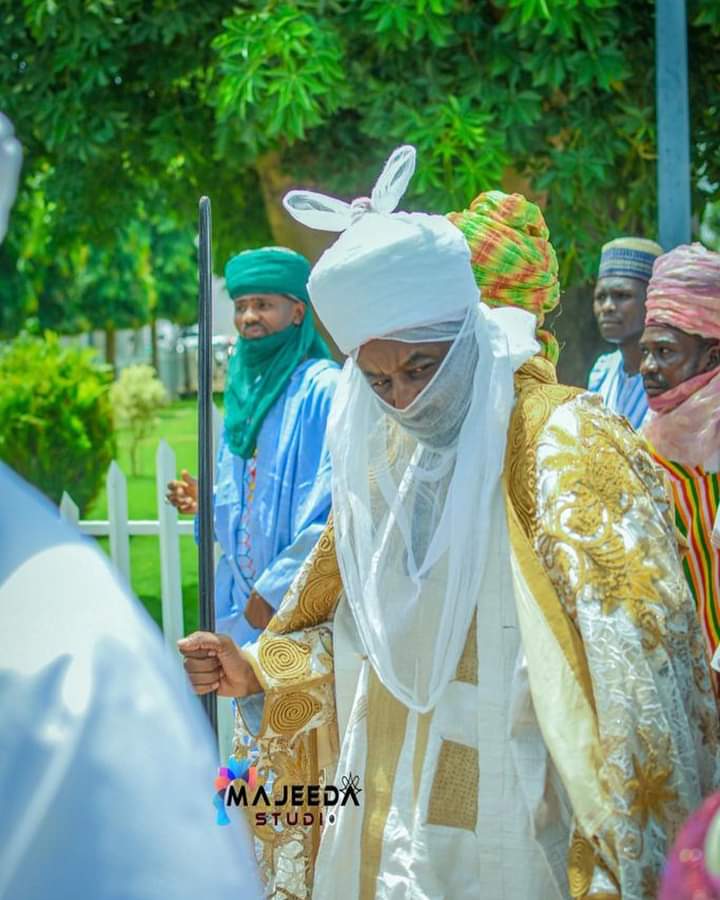 Kano to revive bilateral relationship with Pakistan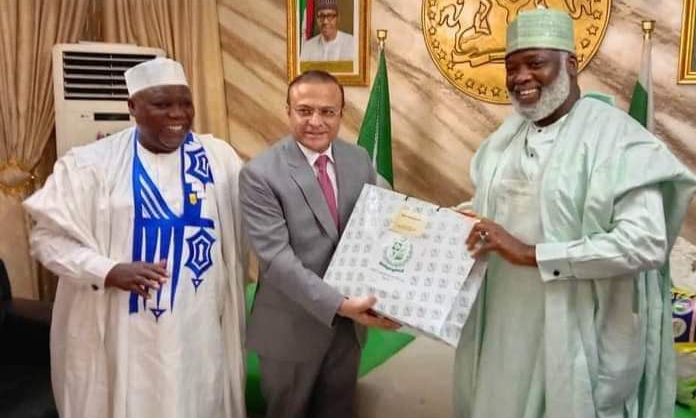 Aminu Abdullahi
Kano State Government has expressed commitment to revive the long existing relationship with Pakistan.
KANO FOCUS reports that Governor Abdullahi Umar Ganduje gave the assurance on monday while receiving the Pakistani High Commissioner to Nigeria Muhammad Tayyab Azam at the Government House.
Ganduje represented by his deputy Nasiru Yusuf Gawuna said Kano endowed with lots of potentials is open for people to come and invest, particularly those from Pakistan.
"We are happy for showing commitment towards reviving the long relationship between us. I can remember the partnership we have in the engagement of Pakistani teachers in our schools which has yielded a lot today."
"Even in the area of agricultural mechanization we have partnered with Pakistan especially in the supply of tractors to our farmers,therefore I feel if we continue to explore agriculture it will be beneficial to both Kano and Pakistan".
The Governor also commended Pakistan for showing interest in reviving the bilateral relationship with Kano State.
In his remarks the Pakistani High Commissioner Muhammad Tayyab Azam described the visit to Kano as historic and important being the first state he visited since assuming office.
"I know the importance of Kano as hub of business in Nigeria, after Lagos Kano is next where there is business opportunity".
"There was a time in Kano when most schools   have many Pakistani teachers..my aim is to bring back that relationship".
He however pointed out that Kano and Pakistan have similarities in both values and culture therefore it is important to deepen the relationship so as to sustain the partnership in  the areas of health and agriculture as that will create opportunities for our people towards boosting the economy.
The High Commissioner was accompanied during the visit by Pakistani Consul General in Kano Ahmed Ibrahim Yakasai.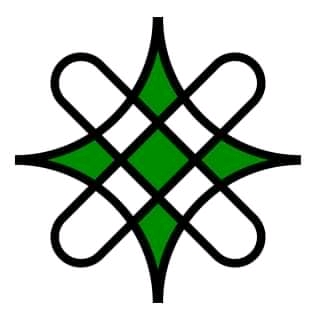 The Arewa Consultative Forum ( ACF) has resuscitated it Kano State chapter and nominated a 14- member Interim Executive Committee to run its affairs for the next six months.
Kano Focus reports that the Forum has mandated the new leadership to organise a general congress that may elect a new council.
A statement issued on Monday by the publicity secretary of the Forum Bello Sani Galadanchi reported that at the inaugural ceremony presided by a member of ACF Board of Trustees, Halliru Akilu, the non- partisan voluntary organization also nominated delegates to its National Executive Committee ( NEC) engagements.
Akilu, a retired Brigadier- General, tasked the new leadership to work in unity, and restore all ACF organs and activities for the betterment of our society.
He stressed that the ACF which is apolitical, believes in the unity of the country, but aspires to see the glory of the north restored, and the economic fortunes of the region tapped for the greater benefit of our people and the nation as a whole.
In his acceptance speech, the new Chairman of the ACF Interim Committee, NaShehu Hassan Abubakar thanked the congregation for finding him worthy of the enormous responsibility.
Abubakar, a retired Air Vice Marshall (AVM) assured the ACF National body and people of Kano State of his determination to steer the ship creditably, selflessly and in strict compliance with ACF desire to improve the lot of our people, as well as agitate for their rights.
Other committee members nominated at the ceremony include Aishatu Yakubu Maijama'a (Deputy Chairperson); Shehu Aliyu (Vice- Chairman); Muhammad Mustapha Yahaya (Secretary); Sani Bala Tela (Assistant Secretary); Rabia Hussein Adamu (Treasurer); and Mairo Bello (Assistant Treasurer).
Others   are Mahadi Sadiq Abubakar, (Financial Secretary);  Hafsat Namadi Bebeji (Assistant Financial Secretary); Bello Sani Galadanchi (Publicity Secretary); Tanimu Ibrahim Getso (Assistant  Publicity Secretary); Kabir Mukhtar (Legal Adviser); Muhammad Kabir Haruna (Assistant Legal Adviser); and Azimi Namadi Bebeji (Auditor).
The inaugural ceremony attracted Youth and Women wings of the ACF whose members were nominated into both the executive committee and the NEC.
Arewa Consultative Forum (ACF) is apolitical and socio-cultural association of leaders in Northern Nigeria formed in 2000 to protect Northern interest in the political scene.