More Catholic than the Pope: Demystifying Nasiru El-Rufa'i's obsession with power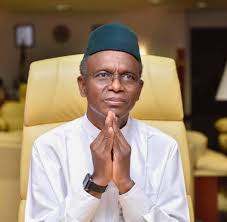 Murtala Uba Mohammed
The famous nineteenth century German Philosopher, Friedrich Nietzsche was quoted to have said: "arrogance on the part of meritorious is even more offensive to us than the arrogance of those without merit: for merit itself is offensive".
This statement is very relevant to a giant-voiced, small physique governor of Kaduna State Malam Nasiru El-Rufa'i.
No doubt, the Katsina born graduate of the famous Ahmadu Bello University and later University of Harvard and Georgetown University, has achieved much in his life.
In his memoir, The Accidental Public Servant, El-Rufa'i stated that he was very lucky to be among few Nigerians to become millionaires in their twenties.
Indeed, this is a rare blessing in a country where the economy is in the hand of a few, largely aged fellows. Nasiru's achievement is not only in material sense as he was fortunate to hold some big political offices in the country.
A rare achiever, Governor El-Rufa'i governed some of the most important capitals of the country, Abuja the present administrative capital of  Nigeria and Kaduna the capital of the defunct Northern Region.
No license for contempt
However achievement is not a licence to treat people with contempt and disrespect the sensibilities of the general public.
After all, El-Rufa'i should thank Nigeria (of course Nigerians) for the chances he is given continuously.
It is important for him to remember that a country of over two hundred million people is very much blessed with many seasoned administrators and technocrats.
I want him to put at the back of his mind that he is not the only and will never be the most intelligent person ever produced in this country.
Let him be humble and not as arrogant as he presents himself.
El-Rufa'i needs to be reminded that if it was physical strength or might, he would not in any way get closer to the power he is too proud of.
In fact it is very unlikely for a person of his stand to inhale its fragrance or odour as the case may be.
If it is hard-work, many work harder but are not destined to attain for one reason or another.
For someone who grew in a centre of learning like Zaria City, it is easy to be reminded that intelligence is no one's monopoly.
He should equally be reminded that power is transient and should be treated as such.
Mai Rusau
Although, this is not the first time El-Rufa'i displayed his extremism and to some extent conceited attitude to the service he was entrusted to render, it is only now that it becomes glaring how overzealous he is and how arrogant and indifferent he is to the people of Kaduna.
As the Minister of Abuja, he was nicknamed Mai-Rusau (the demolisher).
 In his attempt to restore the Master Plan of Abuja, he demolished many structures worth billions of naira.
Many casual and superficial observers applauded him and perceived the wanton destruction of property as a laudable achievement.
But the ever overzealous governor had done more than what planners of the city expected him to do.
Planning is not, by any stretch of the imagination, as rigid as he thought, because it is always people's oriented, it allows for restructuring, amendment and accommodation.
A liveable city should have place for the poor and working class, but not for only capitalist-oriented minds.
Dealing with COVID-19
Anyone following the news today can easily understand how passionate the Kaduna State Governor had become in his fight against the Covid-19 pandemic that found its way into Nigeria since early February.
Governor Rufa'i cannot be matched by any governor in his zeal to do all that can be regarded as proactive measure in containing the pandemic.
He is one of the first governors to impose and enforce lockdown as a means of mitigating the transmission of the virus to the barest level.
This is certainly a good measure especially when one considers the strategic location of Kaduna State as the main entry to core northern states via the most important capitals of the country—Lagos, the commercial capital and Abuja the administrative capital—and indeed the two major entries for the spread of pandemic.
This is sound and proactive tactic, and El-Rufa'i should be commended for that.
However, what one may find strange about the governor is the way he cares not about the fate and plight of the poor and the common people.
A good shepherd should be more concerned about his herd. In a state where most of the residents are poor and live through daily earning, it is very insensitive and unwise to lock people for more than one month as he did.
I do not want to talk about whether the palliatives given were sufficient enough to keep the poor or not because no sensible Nigerian will believe our leaders in this kind of situation—glaringly confidence has been eroded.
One will continue to wonder and ask rhetorically:  who are his advisers?
It seems he has too much confidence in himself and this has given him a proclivity of the 21st century dictators.
He feels that his view is the only view and his way is the only right path.
It is apparent that the governor remains insensitive and adamant to many calls and advice given by good and concerned citizen of Kaduna State.
Dangerous utterances
Some of the governor's utterances were dangerous and quietly implied his general feeling towards people's cause. The governor always wants to say things that are controversial and that will make him perpetually the point of discussion in the public arena.
El-Rufa'i's attitude to his principals is very undemocratic as he continues to remain adamant to the people's fate.
It is crystal clear how draconian he sounds especially when it comes to religion.
There is nothing wrong in banning religious gathering to safeguard the life of people and to ensure that the spread of lethal Covid 19 is within government's control, but that should be done with decorum and respect to religious authority.
When he was canvassing for their support and votes, he treated them with all the respect they deserved.
Among his most annoying action was his press release of May 19th laced with statements that are quite unfortunate for a public office holder of his status.
It is very unprofessional for a governor of one state to engage in direct attack on other state's decision especially in a matter of national question and jurisdiction.
In his press release, governor El-Rufa'i unnecessarily dedicated three of points to Kano State.
He also appointed himself as a prosecutor and a judge by concluding that the strange deaths of people in Kano State during the height of the pandemic were caused by the Coronavirus and nothing more.
Intellectual arrogance
This statement revealed how intellectually arrogant and naive he is to report what a medical team and the Presidential Task Force on the Coronavirus Pandemic were investigating and yet to compile their reports at the time. Not only that the governor accused his counterpart (the governor of Kano State) of complacency and being economical with truth by concluding that the cause was known by the Kano state government and the medical team but they were manipulating the truth.
The new self-styled Pax-Nigeriana extended his jurisdiction beyond the assigned territory by saying that he would stay at the border to prevent people from Kano and other states from entering the 'Holy' Kaduna State.
These and his other utterances, including that of saying the evacuated Almajirai from Kano constitute a larger portion of cases recorded in his state had generated mixed reactions on social media.
The Kano State government also responded to that and youth from the two states engaged in bitter and offensive exchanges.
The divisive and controversial utterances of El-Rufa'i were the causes of the heated exchanges which polarized the youth of the two states at a time they needed to work together in harmony.
In attempt to settle the exchange between the two giant governors, the Daily-Trust newspaper dedicated its editorial of 1st June to this issue.
In the editorial, the newspaper reminded the two executives about their duties which exclude not engaging in unnecessary dispute and altercations over what is considered of critical importance to people's life.
Health is one of the primary needs of human and it should not be handled with onionskin.
Still pointing fingers
However, it is obvious that El-Rufa'i has not refrained from his usual way of portraying himself as the holiest of the holy.
In a response to a tweet made by one @jibrilibrahim17 on 5th June, El-Rufa'i through his twitter handle, @elrufai opined that some states are deliberately under reporting their Covid-19 positive cases by submitting few sample to test laboratories.
However, he exonerated his state by saying: "FCT, Kaduna and Lagos at least are actively tracing contacts because we want RIGHT numbers of those infected – to test, trace contact and treat them. We want to save lives not have unexplained death."
Although the governor was not so specific as to what state he was referring in his statement, it is as clear that he was referring to Kano and no more.
Of all states in the country none had the case of unexplained death as Kano. Also, the state (Kano) is reporting few cases since last week which the statement was pointing at.
The foregoing had clearly shown that the El-Rufa'i has neither physical nor social boundary in his dealings.
His way is clearly confrontational and dictatorial.
He considers himself too important and arrogates wisdom to himself.
This has to stop for the respect of constitution and other people's thoughts, rights and opinions.
It is my humble hope that the governor will adjust and concentrate on his duties while allowing others to discharge theirs.
I will end with a popular saying that respect is reciprocal.
Murtala Uba Mohammed, PhD writes from Department of Geography, Bayero University Kano
Meet unsung court registrar, Ustaz Sunusi Khalifa
Sunusi Umar Sadiq
When our courts' business has for long become a cash and carry business, when the attention your case gets depends on the amount of money you give, when everything smells and breathes of money, when even the welcome you get depends on how much you give, there stands out one person, alone on a very high moral ground, and to whom public service is a sacred trust that must be discharged against all odds, without expecting any benefits in return. His name is Sunusi (Khalifa). He is the Principal Registrar of Chief Magistrate Court 9, Nomansland.
He doesn't ask for money. He is too noble to do that. Not only that, he only takes what is necessary from lawyers to render the services they require, compilation of record of proceedings in most cases.
I once gave him money as 'deposit' with the intention of giving him more when I came back for the records. He insisted that the 'deposit' was enough and I shouldn't care to pay anything more. At another time I gave him what other registrars will definitely ask for more. Khalifa insisted that I should reduce something out of it as the amount I gave was too much for what I wanted.
For Khalifa, his salary is his consideration for which he is under an obligation to discharge duties. While other registrars will demand thousand of Naira to enroll order and have it signed, Khalifa does that as a matter of course, a normal course of business.
It is a pity that this rare gentleman is unheard and unsung. I have not heard of any award of excellence for him from the Branches, the MULAN or any other organization or association.
Heaven rewards. The world appreciates. I will be glad if Khalifa gets appreciated though he is not in need of it. It will, however, send a very strong message to those who make our court some sort of market places and our machinery of justice (or is it machinery of law) a booming business in which every situation is exploitable.
Kudos, bravo and gracias to my namesake. We are aware of your gentle and sterling qualities and I personally always tell your story. And I do so in the most colorful of language. Something like this:
'There is a court registrar that never asks for money. If you need anything he only takes the exact cost. If you give him more than that, he will return the surplus and say "wannan kudin ai ya yi yawa".'
Barrister Sunusi Umar Sadiq is a legal practitioner based in Kano
RE: In defense of Salihu Tanko Yakasai
Salihu Tanko Yakasai
The above article written by Sule Yau Sule, the spokesperson of Senator Ibrahim Shekarau, might seem like a defence against my unlawful detention on 26th February 2021 in Kano, but soon after the first paragraph, it morphed into an attack on me while I was still in detention.
Though the writer superficially intended to "defend" me against the injustice meted against me for justifiably and conscientiously expressing my opinion on the current drift of the country toward cul-de-sac in apparent deviation from the vision of the ruling party to take the country away from the abyss in 2015, Sule Ya'u Sule ended up castigating me for simply exercising my constitutional rights of freedom of speech as enshrined in the constitution.
The article also bordered around ethics and professionalism of the work of a spokesperson as highlighted by the learned writer. If he had stopped there, one would have taken it objectively and picked all the lessons therein, which truly, are valid and worthy of being noted. Unfortunately, the writer digressed far away from the subject matter and delved into politics, bringing to the forefront a grudge he has been nurturing against me for over a decade, because we were on opposing sides politically with his principal when we were in the defunct ANPP.
To set the record straight, I joined APP back in December 2000 and a couple of years later, Malam Ibrahim Shekarau equally joined partisan politics and contested for the governorship election in 2003. When I joined politics, Alhaji Al-Amin Ibrahim Little was the leader of the party in the state, but when he lost the party to Shekarau and decamped to PRP, I remained in APP and went on to serve as the returning officer for Shekarau's election, which he eventually won largely due to Buhari's huge influence. But soon after that, Shekarau drew the line against us, Buhari's supporters in the state, which birthed our rivalry with the Shekarau's camp. My political mentor then was Hon. Balarabe Wakili who was instrumental in Shekarau becoming a member of the APP at that time. This was the genesis of our crises in Kano APP which led to our exit from the party in 2011 to form CPC.
I was in my mid 30s during the 2011 general elections and, of course, I went all out in my attacks on Shekarau which I later regretted and posted on my Facebook page, apologising for such a behavior; a post which is still there on my page if he wishes to look it up. I do remember Sule Ya'u Sule's call one evening, a few days before I made the apology, and in that call, he gave me some sound advice on the choice of words whenever criticising Shekarau, a point I took to heart, and unlike what he has stated in his recent article, I have never attacked Shekarau again after that phone call till date.
Now back to the part of the article in which he has talked about ethics and what not. I am a person that take corrections to heart and I have picked all his points like a student in his class. But you see, the funny part about life is that those who live in glass houses should not throw stones. Let me refresh Sule Ya'u Sule's memory about how when he was the spokesperson of the then Governor of Kano State, Malam Ibrahim Shekarau, he fabricated a letter allegedly from the EFCC claiming that Shekarau had been cleared of all charges, which turned out to be a big lie, thereby causing a huge embarrassment to his principal to the extent that he was suspended for six months only to be reinstated after several pleas and interventions.
As stated by Sule in his article, "A spokesperson's best tools are decorum, decency, belief and passion." So I ask Sule, is embarrassing your principal also among the tools of a spokesperson? May I also ask, what punishment did he receive from NIPR at that time? If he did not receive any, perhaps he should include it in his note to the professional body in order to come up with a suitable punishment against others that will try to emulate him and ridicule their principals with fake clearance letters.
Let me also take this opportunity to set the record straight on the issue of my comments that resulted in my unlawful detention. I neither planned it nor did I have the intention of provoking such reactions. It was a spontaneous reaction on my part triggered by a number of the recent rise of insecurity in the country particularly in the north. I have personally suffered two major security issues in the last four months; the murder of my younger sister's husband in Bauchi in front of my sister and her kids and the kidnapping of my sister's husband's younger brother in his house in Kaduna. N5 million had to be paid as a ransom to secure his release and in the process of raising the money, armed robbers carted away N1 million of the amount. I was certainly not thinking about ethics when I reacted to the devastating news of the abduction of the over 300 Zamfara girls. I believe anyone with a tiny bit of conscience will certainly be moved by the abduction.
Perhaps Sule is too pre-occupied with enforcing PR ethics of a spokesperson that he has lost all his conscience to the extent that he cannot see that I am a human, which comes first, before any ethics or even a temporary position that I will not occupy for life.
On a final note, though Sule is a PhD holder in Mass Communications and a professional by all standards in the field, both in terms of qualifications and experience, when it comes to human relations, I believe he is merely a kindergarten pupil. If he truly regards me as a brother as he had claimed in the article, he would not have written such a politicised opinion at a moment when I was still in unlawful detention and my family and friends were equally terrified as to what might happen to me. Irrespective of whether I was out of line or not, that is certainly not the action of someone you consider a brother. I remember when I was first appointed as the Director-General, Media in 2016, the first thing I did was to pay a visit to my predecessors to seek for their blessings and guidance, namely: Baba Halilu Dantiye, late Umar Saidu Tudun Wada and Sule Ya'u Sule. Sule promised to provide me with all the support I needed to execute my work, but little did I know that he was holding a decade-long grudge against me. Indeed with friends like Sule, who needs enemies?
Salihu Tanko Yakasai (Dawisu) is the Founding Curator of the Global Shapers Community Kano Hub of the World Economic Forum. 
Salihu Tanko: Ganduje playing politics with aides' sack – Shaaban Sharada
I read with dismay a statement by the sacked media aide of Kano state governor in the person of Salihu Tanko Yakasai that the All Progressives Congress led- government has failed Nigerians while calling on President Muhammadu Buhari to resign.
It is unfortunate to see such a controversial statement coming from an aide of a governor of our great party, the All Progressives Congress (APC) despite efforts of the APC Extraordinary Convention Committee led by His Excellency Mai Mala Buni.
The statement is uncalled for and smacks of an attempted sabotage to the administration of President Muhammadu Buhari and it further brings to the fore the ignorance of the said aide on how security architecture works.
Since the abduction of the Jangebe Students, I have spoken with relevant security chiefs who have assured me of efforts they are making to rescue the girls safely.
In defense of Salihu Tanko Yakasai
My relationship with President Muhammadu Buhari – Salihu Tanko Yakasai
Instead of Yakasai to exploit his privilege by praying for the successful rescue of the school girls by security operatives under the directives of President Muhammadu Buhari, he is rather ridiculing their efforts through a series of unwarranted media attacks that are seen as an attempt to instigate fear in the victims' parents and mislead the general public to tarnish the image of the APC led government.
Buhari has improved security
It is on record that the security situation of the country has improved since the assumption of Buhari as President.
Essentially, the nature of insecurity prior to the Buhari administration is different from the current security situation in the country.
If you could recall, there was a time when our daughters, sisters and wives of both basic and tertiary institutions cannot go to school without going through a thorough search.
The market was a no go place, places of worship became  places to  fear, while a one or two hours journey became a 10-hour journey due to stop and searches by security men on the roads.
All those measures did not stop terrorists from bombing mosques, churches, markets, and motor parks etc.
A typical example is the 2014 Kano central mosque bomb blast that claimed the lives of more than 1,000  people in a day.
The insecurity was not restricted to the North West and North East alone, as it escalated to the Federal Capital Territory where terrorists attacked the United Nations building in Abuja.
It is a mark of the improved security situation in the country that the recently abducted Kagara Students were released last Saturday.
The process that the government followed in ensuring the release of these students safely will be applied to rescue the Jangebe Students In sha Allah as I've been assured by the relevant security agencies and the governor of the state as well.
Yakasai playing Ganduje's script
Yakasai's attack is not surprising though, as he might be acting under the command of his principal, Governor Abdullahi Ganduje who is known for speaking from both sides of his mouth.
Ganduje had last year suspended Yakasai over a statement accusing the President of lacking empathy during the EndSARS protest.
Attack on Buhari: Ganduje suspends media aide
It was alleged that the governor planned the suspension like a movie where he promised to reinstate him back. This came to pass some months later.
It is obvious that his current purported sack has a political undertone.
It would be recalled that one of Ganduje's Commissioners celebrated the death of Chief of Staff Mallam Abba Kyari last year.
The governor in his usual manner of playing to the gallery and after pressure by Nigerians decided to sack the Commissioner but later appointed him  to serve in various government committees including the Chairmanship of the  AKK Gas Pipeline implementation Committee in Kano.
This is how the governor is working closely with people that personally berate President Muhammadu Buhari.
Ganduje sabotaging the APC
Ganduje's sabotage does not stop there; he has a good relationship with members of the opposition whom he appointed into juicy positions while other party members are kept aside.
Example of this is the Commissioner for water resources who is a card carrying member of the PDP.
His anti-party activities against the All Progressives Congress and other efforts he is making in frustrating party members in the state is an attempt to weaken the party because he has sensed that his political ambition in 2023 is looking unachievable.
A Commissioner for Education in his government was also seen displaying a ballot paper where he voted for PDP in the recent bye election at Kiru/Bebeji Constituency.
This is a sabotage to our party at a time we are trying to reconcile warring party members across states to further strengthen the capacity of the APC in the 2023 election.
The recent party registration and revalidation exercise in Kano was not a success as Ganduje was the decider of who should be registered or not as the revalidation documents were domiciled in the government house.
I'm a victim of this as I was denied revalidation of my APC membership at my ward in Sharada, despite being a stakeholder and member of the House of Representatives in the state.
Even an ordinary member of the party doesn't deserve this, especially when the party is targeting 25 million members.
Why is this injustice being meted out on members of the defunct CPC and loyalists of President Buhari?
Of all the Commissioners down to local government Chairmen and top government appointees, there is none from the defunct CPC.
I'm in contact with relevant security agencies and I am aware of efforts they are making to restore the security of our dear nation.
Nigeria is one, we should keep ethnic, religious and political sentiments aside, and we should tell the truth in real sense and not personal attack.
As a loyalist of the President who has worked closely with him, I know his commitment to seeing a prosperous, peaceful and united Nigeria.
His patriotism, transparency, and accountability is a testimony to his love for this country.
Hon. Shaaban Ibrahim Sharada represents Kano Municipal in the House of Representatives and chairs the House Committee on National Security and Intelligence.