13 persons who died in auto crash buried amidst tears
An auto crash at Tashar Yari along Zaria to Kano had on Saturday claimed thirteen lives.
KANO FOCUS reports that hundreds of people attended the funeral prayers and burial at 'Yan Hayis graveyard Gwale quarters, Gwale local government area of Kano state.
A resident of Gwale quarters Nura Mustapha Sharif popularly known as Sharu Khalifa said the deceased were coming back to Kano from Zaria, Kaduna state where they attended a wedding ceremony.
According to him the accident claims twelve lives including a driver of Kano Line, a state government owned transport company.
"My family loss two persons. My elder and junior brother. We have so far buried eleven corpses and one person is yet to be found," Sharif said.
The Vice chairman of Nigeria Union of Road Transport Workers Union NURTW, Kano Line motor park branch, Adamu Muhammad said the accident happened at Tashar Yari along Zaria to Kano.
"So far eleven persons have loss their lives, while seven others have sustained different degrees of injury. Two of our drivers were involved. One is dead and the other has sustained injury." Mr Muhammad said.
KANO FOCUS correspondent who attended the burial counted thirteen corpses.
June 12: Tinubu's posters flood Kano streets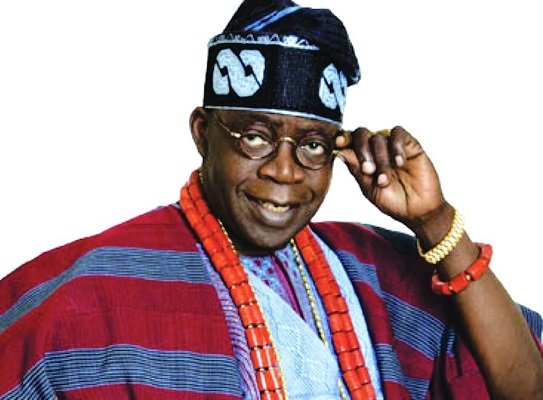 The posters of National leader of All Progressive Congress APC, Bola Tinubu have flooded major streets of Kano metropolis amidst June 12 celebration.
KANO FOCUS reports that Mr Tinubu was billed to arrive Kano on Saturday to witness formal defection of former gubernatorial candidates of the Green Party of Nigeria (GPN) and People Redemption Party PRP, Abdulsalam Abdulkarim, popularly known as AA Zaura and Salihu Sagir Takai as well as son of former head of state Risqua Murtala Muhammad.
However, Mr Tinubu has not been sighted at the grand ceremony which attracted mammoth crowd at Kano Pillars stadium.
Although there was no known reason why Mr Tinubu has not attend the celebration, his posters has been pasted in major streets of Kano metropolis.
The areas flooded by the Jagaban posters include Sani Abacha stadium, Kofar Nassarawa bridge, Emirs Palace road and BUK road.
The posters carried an inscription of Democracy day congratulatory message 'Happy Democracy Day' from Tinubu Advocacy Group.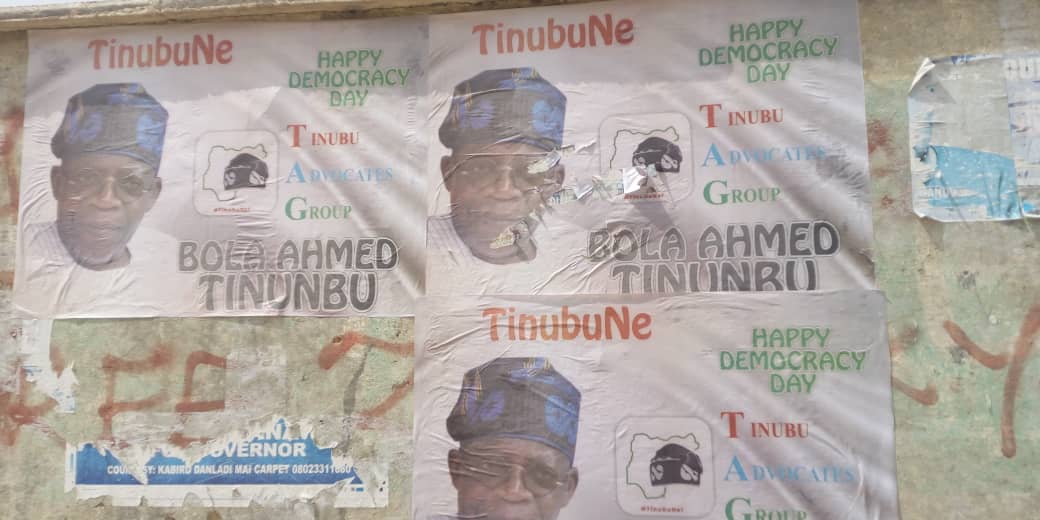 The management of Bayero University, Kano has announced the death of young Kamaluddeen Moshood, a level 200 student in the Department of Accounting.

A statement sent to KANO FOCUS by the university's spokesperson Lamara Garba said Mr Moshood died on Saturday, at the National Orthopedic Hospital Dala, Kano following injuries he sustained as a result of a road traffic accident.
KANO FOCUS had earlier reported a level 400 student in the department of Political Science Mercy Sunday had also died of fever and vomiting in the Ramat Hall female students' hostel on Tuesday morning.
The statement recalled that young Moshood was hit by a fast-moving vehicle outside the University on Tuesday, 8th June at about 10:00 pm.
"Upon receiving the report of the accident, the Vice Chancellor, instantly directed the Dean of the Students Affairs to visit the scene and take all necessary action.
"The driver of the vehicle was apprehended while the victim was rushed to the hospital  under the supervision of the University Director Health Services for prompt medical attention as he sustained multiple fracture.
"While at the Hospital, preliminary investigations revealed that Kamaluddeen had a severe crush leg injury and needed to have his leg amputated to save him.
"However, the doctors who observed  his condition advised that in view of his unstable condition, it may not be possible to conduct such a major operation.  It was in the process of stabilizing his health that he gave up the ghost," the statement said.
While commiserating with the family of the deceased entire members of the University community, the Management however, warned against any plan by students or group of persons to engage in any act that could jeopardise the peace being enjoyed on campus in whatever form.
The statement warned that the university will not condone any act of uncivilized behavior whatsoever which will disrupt the peace in it's our campuses, adding that any student caught doing so will be decisively dealt with.
BUK asks ministry of works to erect pedestrian bridge
The university management said they have sent a request to federal ministry of works for the construction of pedestrian bridge near the main gate of the new campus.
"In the meantime, it should also be noted that in its determined effort to ensure the safety of students and other stakeholders of the University, the Management had, early this year (2021) made a submission to the Federal Ministry of Works on the urgent need to construct a pedestrian bridge near the main gate of the New Campus for  use by students in crossing over the trunk 'A' highway that passes by the side of the university.
"Already, the Ministry had obliged to the request of constructing the bridge and arrangement has gone far in that regards," the statement said.
Danbatta: Kidnappers release Igbo businessman
Mukhtar Yahya Usman
Kidnappers have released the Igbo business man abducted last Friday in Danbatta local government, Kano state.
Kano Focus exclusively reports that Mr Emanuel Eze regained freedom after paying an undisclosed ransom.
Mr Eze's neighbor Salisu Abubakar Kore told Kano Focus that he was contacted by the kidnappers to drive the businessman home on Thursday night.
Police arrest woman 53, over alleged kidnap, murder of 6-year-old child in Kano
JUST IN: Kidnappers release Kano legislator's teenage daughter
Kidnappers abduct Danbatta legislator's daughter
"I was called around 1:30am and directed to pick him up in Ringim, Jigawa state.
"When I reached Kanya Babba I was rerouted to Gidan Lage, Garki local government, Jigawa state where I picked him around 2:30am.
"We arrived Kore in Danbatta local government, Kano state by 5:30am but he instructed me to proceed to Kazaure, jigawa state where he reunited with his brothers." Mr Kore said.
The Kano Police Command Public Relations Officer, Abdullahi Haruna Kiyawa has confirmed Mr Eze's release.
Mr Kiyawa, a deputy superintendent of police said the command has received tips about the kidnaps whereabouts and is in the process of hunting them down.