Ganduje assigns portfolios to new commissioners, warns against corruption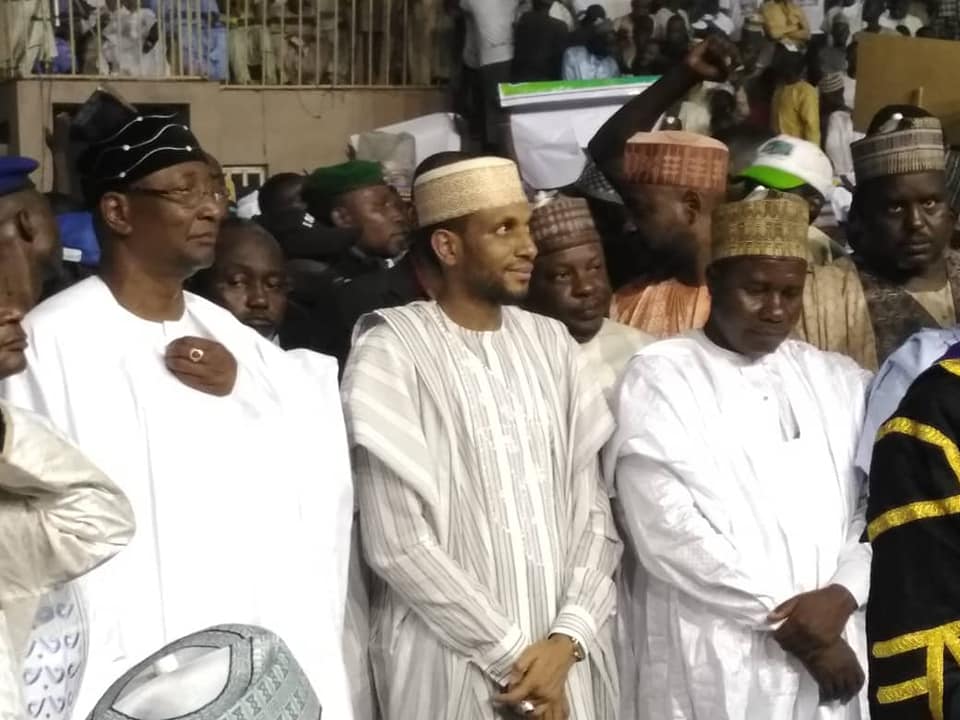 By Nazifi Dawud
Governor Abdullahi Umar Ganduje has assigned portfolios to all his 20 commissioners after swearing them in on Tuesday.
Kano Focus reports that Mr Ganduje inaugurated the cabinet members immediately they were screened by the Kano State House of Assembly.
The screening took only three hours as most of the commissioners were simply asked to "take a bow and go" by the lawmakers.
Reading their portfolios to them at the Sani Abacha Stadium, Mr Ganduje warned the cabinet members to desist from engaging in acts of corruption, saying anyone found wanting would be investigated by the Kano Public Complaints and Anti-Corruption Commission.
"I want to use this opportunity to congratulate you on the new appointment but you are required to measure up to expectation and do all what you can do to move Kano state to the next level," he said.
The governor urged the new commissioners to work together with their permanent secretaries and directors for effective implementation of government policies and budget targets.
He added that the officials were selected based on merit and encouraged them to work hard to develop the state.
Below is the list of the commissioners and their portfolios:
1 Deputy Governor Dr Nasiru Yusuf Gawuna–Commissioner of Agriculture
2- Hon Murtala Sule Garo–Commissioner of Local Government
3- Engr. Muazu Magaji–Commissioner of Works
4- Barrister Ibrahim Muktar–Commissioner of justice
5- Hon Musa Iliyasu Kwankwaso–Commissioner of Rural Development
6- Dr. Kabiru Ibrahim Getso–Commissioner of Environment
7- Comrade Mohammed Garba–Commissioner of Information
8- Hon Nura Mohammed Dakadai–Commissioner of Budget and Planning
9- Hon Shehu Na'Allah Kura–Commissioner of finance and economic development
10- Dr. Mohammed Tahir–Commissioner of Religious Affairs
11- Dr. Zahara'u Umar–Commissioner of Women Affairs
12- Dr. Aminu Ibrahim Tsanyawa–Commissioner of Health
13- Hon Sadiq Aminu Wali–Commissioner of Water Resources
14- Hon Mohammed Bappa Takai–Commissioner of Science and Technology
15- Hon Kabiru Ado Lakwaya–Commissioner of Youth and sports
16- Dr. Mariya Mahmoud Bunkure–Commissioner of Higher Education
17- Hon Ibrahim Ahmed Karaye–Commissioner of Tourism and Culture
18- Hon Muktar Ishaq Yakasai–Commissioner of Special Duties
19 Hon Mahmoud Muhammad–Commissioner of Commerce and Industry
20 Hon Muhammad Sunusi Saidu–Commissioner of Education
21- Barrister Lawan Abdullahi Musa–Commissioner of Housing and Transport.
Kano APC denies PDP claims of plot to change Appeal Court judges
Mukhtar Yahya Usman
The All Progressives Congress (APC) in Kano state has denied allegations by the opposition Peoples' Democratic Party (PDP) of a plan to influence the choice of Court of Appeal judges who will preside over the Kano governorship election appeal.
KANO FOCUS recalls that the PDP made the allegation in a statement issued on Sunday in Kano.
Kano state commissioner for information Muhammad Garba characterized the PDP allegations as "blatant lies intended to blackmail the Appeal Court as it clearly indicated that the opposition party is jittery, confused and afraid of possible loss at the Court".
Mr Garba, in a statement issued on Monday alleged that the PDP usually spread lies whenever it realizes that it was about to lose an election.
He said the APC and its candidate have confidence in the outcome of the Appeal Court judgment and they are not planning to disrupt the judicial process.
He added that the Kano state government will not allow the PDP to incite violence through misguided statements.
PDP accuses APC, Ganduje of plotting to change Kano guber appeal judges
By Mukhtar Yahya Usman
The Peoples Democratic Party (PDP) has accused the ruling All Progressives Congress (APC) and Governor Abdullahi Ganduje of plotting to change the judges that have been already assigned to preside over the Kano state Governorship Election Appeals Panel.
Kano Focus recalls that the PDP and its candidate in Kano Abba Yusuf have filed an appeal at the Kaduna Division of the Appeal Court, after their petition challenging the victory of Mr Ganduje, was dismissed by the Kano Election Tribunal led by Justice Halima Shamaki.
In a statement on Sunday, signed by its National Publicity Secretary, Kola Ologbondiyan, the PDP alleged that there are "plots to replace the judges with pliable ones, who have been compromised and briefed to alter justice and do the bidding of the APC and Governor Ganduje."
"The PDP invites Nigerians to note that the sitting of the panel, which was moved from Monday, November 11 to Tuesday November 12, 2019 due to the public holiday on Monday, had been adjourned indefinitely.
"We have reports that this was due to pressure being mounted by the APC and agents of Governor Ganduje to alter the list of the judges.
"Our party has also been reliably informed that the indefinite adjournment was to enable the replacement of the already announced judges with pliable officials who will manipulate the judicial process in favour of the APC," Mr Ologbondiyan said.
The opposition party also claimed that even before the commencement of the appeal hearing, supporters of Mr Ganduje have already started celebrating victory.
"Already, the supporters of Governor Ganduje are in jubilant mode, claiming that they have moved beyond the Court of Appeal, even when the panel is yet to commence sitting.
"Nigerians will recall that similar scenario played out during the composition of the Kano Governorship Election Petition Tribunal, when the initial judges were changed after which the judgment went in favour of Ganduje and the APC to the chagrin of the people.
"With the on-going plot by the APC, Ganduje's supporters have been going about boasting that the Court of Appeal judges, that were already announced and expected the commence sitting on Tuesday, will be changed to suit the interest of the APC and Governor Ganduje," the statement said.
"The PDP cautions that any change in the already listed judges could trigger tension and crisis in the state, given the demand of the people for justice.
"Our party therefore calls on the President of the Court of Appeal, Justice Zainab Bulkachuwa, not to allow anybody to draw her into the arena by ensuring that the already constituted panel is not in anyway altered," it added.
Kano kidney patient, who sought N15m for transplant, dies
By Nasiru Yusuf
A kidney disease patient, Mahmud Aminu Daneji who sought N15 million medical assistance for transplant in India has died.
Mr Daneji popularly known as " Mamuda Elder" died on Sunday at the age of 46 and left behind a wife and a son.
He died while seeking N15 million assistance to enable him travel to India for kidney transplant.
His funeral prayer is scheduled to take place on Monday morning at Layin Bata, Gadon Kaya quarters in Kano city.
In an interview recently, Mr Daneji had told Kano Focus that his two kidneys failed simultaneously in 2001 after he was struck by severe hypertension.
"I used to be a very healthy and productive man before hypertension struck me down. I was living my life happily when suddenly my blood pressure shot to over 220 in March 2001," he had said.
In October 2006, Mr Daneji had a successful kidney transplant, which worked for four years before it also failed in 2010.
He had explained that since since 2001 he had undergone more than 1,473 dialysis sessions.