Re: Kano: Empty Leadership, huge liability
Muhammad Garba
When I read a piece pen down by the sacked chairman of the All People's Congress (APC), Umar Haruna Doguwa titled:'' Kano: Empty Leadership, huge liability,'' I realized that the man, out of desperation, is carelessly ridiculing himself unnecessarily and exposing his candor and witlessness through misrepresentation of facts in the media.
Nobody is envying the embattled former party chieftain from aiming for any office, but definitely not through blackmail and spreading of lies.
One cannot overlook the deliberate distortion of facts on the state of affairs in Kano but to put out a response, because it could also help in dissuading desperate politicians like Doguwa using every opportunity to ensure that the people are deceived, just to achieve a selfish interest.
For those who are closer to Kwankwaso know that he always impose his whims on all and exploit them for his personal benefits against collective interest.
Kano: Empty leadership, huge liability
Even as pioneer APC chairman, you never run the affairs of the party independently talk less of bragging to have organize and coordinate an election.
You were just but a rubber stamp, while your master dictates how things were organized and executed.
Gaduje inherited Kwankwaso's liabilities
While I absolutely agree with you that Governor Abdullahi Umar Ganduje did promise to continue with the legacies of the immediate-past administration of Senator Rabi'u Musa Kwankwaso, when he assumed the mantle of leadership on May 29, 2015, the governor has kept to his promise in all spheres of governance.
This, he did, by fine-tuning most of the policies and, as well, bringing into bear, innovations that have today crowned Kano as a reference point of good governance in Nigeria and beyond.
As I read the article, I wonder how on earth Doguwa did not mention the huge liabilities Ganduje inherited from the Kwankwaso administration which were discovered by the Transition Committee. Since you were part of the government, you ought to have mention how Kwankwaso, who served his last tenure in office between 2011 and 2015, also introduced unworkable policies and programmes as well as execution of projects without financial backing, which allegedly used them to siphon public funds or to make the state ungovernable for the incoming governor.
At the expiration of his tenure, Kwankwaso left a liability of N313 billion for the incoming government.
With these debts hanging on his neck, Ganduje also assumed office when there was recession, which resulted in reduced federal allocation, dwindling level of Internally Generated Revenue and the slim nature of the state's treasury which, however, had not deterred him from deploying his wealth of experience to effectively administer the state.
Ganduje's building projects
Some of these projects include Murala Muhammad Way Bridge, the longest in the country named after the Kano Business mogul, Alhaji Aminu Alhassan Dantata, which was inherited at 15 per cent state of execution which has now been completed, commissioned and put to use; the state Independent Power Project at Tiga and Challawa Dams which was inherited at 35 per cent and now at 95 per cent stage of execution;  dualisation of Yahaya Gusau Road left at 10per cent and construction of underpass which was left at 15 percent stages of completion.
In fact, the contract sum of the project has to be revised because of absence of transparency in the project.
Other projects either uncompleted or abandoned but completed by the Ganduje administration include dualisation of 'Yantaya Kofar Dawanau and rehabilitation of Ahmadiyya Road awarded in 2013; construction of Dorawa Road; construction of Rijiyar Gwangwan Road; Rehabilitation of Yusuf Road.
Ganduje also inherited 665 projects valued at N72 billion from Senator Ibrahim Shekarau's administration out of which N40 billion was paid leaving an outstanding payment of N33.2 billion.
Two of such projects include the construction of Giginyu Specialist Hospital (now Muhammadu Buhari Specialist Hospital) and Paediatric Hospital Zoo Road (now Khalifa Sheikh Isyaka Rabi'u Paediatric Hospital).
The two hospitals which contracts were awarded in 2007, were abandoned at 35 per cent completion stage respectively.
The Ganduje administration completed the construction, furnishing and equipping of the facilities.
In fact, the two hospitals are one of the best in the country in terms of standard and state-of-art equipment.
Part of the promise made by Governor Ganduje in his inaugural address, which Doguwa failed to complete is that of the initiation of more people oriented policies and programs for the overall development of Kano state.
The noble and modest achievements of the Ganduje administration have, indeed, dismantled the length and breadth of the so-called Kwankwassiyya Movement which has since gone into oblivion.
This is so because the article itself depicted the emptiness of the Kwankwassiyya and its foot soldiers, since they have no genuine criticism against the APC administration in Kano, having been intimidated by the uncommon achievements of the present ruling party in the state.
These projects include construction of an underpass at Sharada/Panshekara Junction completed and commissioned by President Muhammadu Buhari; construction of underpasses along Katsina Road by Muhammadu Buhari Way; nearly completed underpass and flyover along Zaria Road by Dangi Roundabout; ongoing construction of Cancer Centre at Muhammdu Buhari Specialist Hospital; rehabilitation and ashphalt overlay of Burum Burum-Saya Saya-Kibiya-Rano- Bunkure-Karfi Road; Tiga-Rurum-Rano and Rano-Sumaila  Roads; construction/dualisation of Court Road (now Rochas Okorocha Road); Abdullahi Bayero Road; dualisation of Maiduguri Road (Opp Mobile Police Qtrs)-CBN Qtrs-Zaria Road; construction of asphaltic concrete surfacing from Gidan Maza-S/Gandu-Western Bypass-Kumbotso town and dualised Panshekara-Madobi Junction-Panshekara town Road among others.
Kwankwaso "killed" education
I am also gladdened that Umar Haruna Doguwa, has offered me a window to also refresh the memory of discernable good people of Kano and Nigerians on how the Kwankwaso administration killed the education sector in Kano.
Kwankwaso abandoned the basic education and that was why Ganduje inherited a dilapidated infrastructure in the sector, with the quality of basic education degenerating, leading to unacceptably low academic performance.
In virtually all public educational institutions, primary secondary or tertiary, classes were overcrowded.
Basic amenities are either lacking or obsolete.
And just as he was about to leave office, Kwankwaso made a mere declaration for 'free' education in the state, deviously with the sole intent to leave the encumbrance on the incoming administration of Governor Abdullahi Umar Ganduje.
If Doguwa cares to find out, as at May 29, 2015, there were only 25,000 habitable classrooms out of the 30,000 available, whereas the total requirement in our 3,000 public primary schools is 45, 000 classrooms.
Similarly, there were only 18, 000 toilets as against the total requirement of 35, 000, while 3-seater pupils' desks were only 198, 832 as against the need of 914, 000.
In addition to all these, instructional materials were inadequate while staff morale was at its lowest ebb and as a matter of fact, about 50 per cent of the teachers.
This same thing applies to tertiary institutions in the state that included the two state owned universities.
The Ganduje administration inherited only the Senate building at the permanent site of North West University now Yusuf Maitama Sule University with no academic activities.
The university now operates two campuses.
This is continuity.
Many infrastructure projects were also executed at Kano state University of Science and Technology, Wudil by the present administration, while hundreds of courses were accredited with the National Universities Commission (NUC), National Board for Technical Education (NBTE) as well as the National Commission for Colleges of Education (NCCE).
With this development, Sa'adatu Rimi College of Education has already commenced the award of degree.
Funny enough, Doguwa also brought up the issue of the ill-conceived foreign scholarship scheme on which the present administration was left with a huge liability amounting to N8 billion.
While as part of his continuity agenda, Ganduje has settled over N5 billion of the liability and still working towards offsetting it, facts are available on how the scheme was used to allegedly swindle the good people of Kano and Kano state government.
Far reaching measures have also to been introduced to reverse the ugly trend by accessing the Universal basic Education Commission (UBEC's) counterpart funding of about N2 billion which enabled the rehabilitation of classroom blocks, building of libraries, sinking of boreholes, provision of over 15,000 pupils' furniture, instructional materials, etc.
Governor Ganduje also came up with idea of the Education Promotion Committee (EPC) both at the state level and in all the 44 local government areas which has been able to rehabilitate thousands of blocks of classrooms, provision of seats and  as well as various instructional materials.
And with the introduction of Free Basic and Secondary Education in the state, which Doguwa overlooked deliberately brushed aside, payment of school fees has been abolished in all the primary and secondary schools.
The Ganduje administration has commenced direct funding of primary and secondary schools numbering 1,180 with a total students population of 834, 366 at a total cost of about N200 million per month or N2.4 billion per annum.
Furthermore, N357 million has been budgeted to take care of free-feeding for pupils in primary four to six classes in all primary schools across the state.
Similarly, before the outbreak of the COVID-19 pandemic, Ganduje's government had provided school uniforms to 779, 522 newly enrolled pupils (boys and girls) at the total cost of N381 million which distribution and other instructional materials was flagged off at Mariri Special Primary School in Kumbotso Local Government Area last year.
The state government has also sponsored the funding component of the Free and Compulsory Basic and Secondary Education in the state which was launched at the Sani Abacha Stadium Indoor Sports Hall.
During that event, Ganduje distributed cash to over 110,000 schools across the state designed to enable them build capacity and human resource development.
He also distributed 790 Digital Classroom All Inclusive Empowerment Solution and tablets to 728 teachers, 39 master teachers, nine senior secondly school officers and 14 principal officers.
The programme was aimed at capacity building towards free and compulsory education on School Development Plan (SDP) and ICT appreciation for directors and zonal education directors.
Ganduje's plan for Almajiris
With turn of events, which led to the formal abolishing of the traditional Almajiri system of education in the state, the Ganduje administration is completing arrangements to enroll all 1, 800 repatriated indigenous almajirai to Kano from other states of the northern region into conventional educational system.
Kano, which is the only state that has in place, a functional Qur'anic and Islamiyya Schools Management Board had earlier, established 12 integrated Tsangaya Model Schools across the state, 10 of which are boarding.
Each of the facility has dormitory, hostels, cafeteria, toilets and staff quarters among others, while 8, 000 volunteer teachers have been engaged to teach in the various public and Quranic schools across the state in a bid to reduce teaching deficiency in the sector.
Indeed, Governor Abdullahi Umar Ganduje's launching of free, compulsory basic and secondary education policy has made serious impact with the reduction of the data of out-of-school children in Kano from 1,306,106 to 410,873, from 2015 to 2019. (Refer to the National Education Data Survey (NEDS) Report of 2015 which shows that, Kano had (then) the highest number of out-of-school children with 1,306,106.)
The terrifying report then prompted Governor Ganduje to take the issue with all seriousness, with measures aimed at addressing the situation squarely.
However, with the free, compulsory basic and secondary education policy, as contained in the report submitted to the Governor Ganduje by the sub-committee on out-of-school children survey 2019, it was noted that as a result of various intervention programs the serious drop becomes inevitable.
The survey by the sub-committee was conducted across all the 44 local government areas in the state on house-to-house basis, using village/ward heads under the district heads of each local government area with a view to generating a comprehensive and reliable data that will enable government to effectively implement the laudable free education policy According to the report, from the total number of 410,873 out-of-school children in the state, 275,917 are boys, that represents 67% and 134,956 are girls, representing 33%.
Unlike the Kwankwasiyya and their foot soldiers who play politics with everything, the Ganduje's administration believes that with the right education, the issue of insecurity and unemployment would become things of the past.
Education is a right to every citizen.
This explains why in Kano today, there is a law that whoever fails to send his children to school is committing an offence.
Muhammad Garba is the Commissioner for Information, Kano State
My relationship with President Muhammadu Buhari – Salihu Tanko Yakasai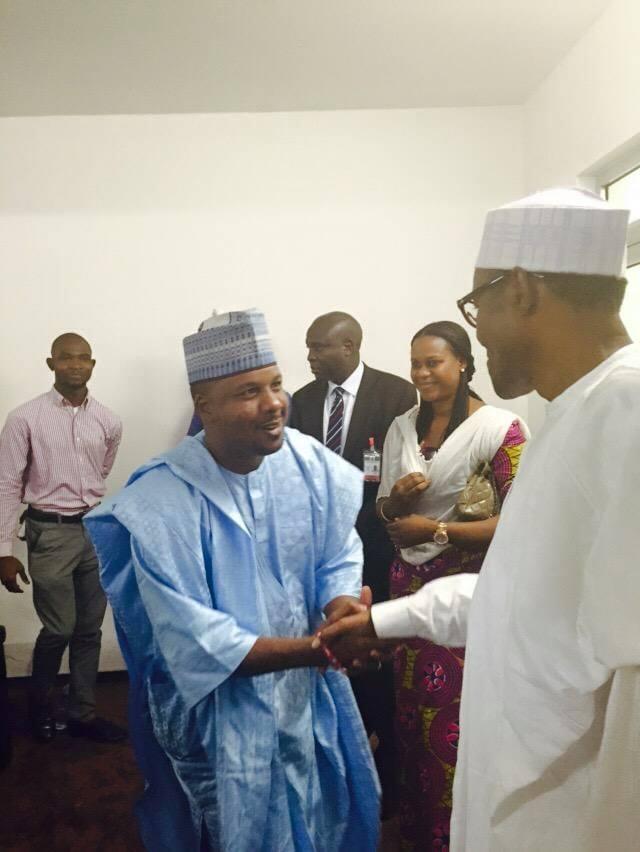 In light of recent events that transpired over my recent comments about the government of President Buhari, I think it is absolutely necessary to shed more light on my decades of relationship with the President, and how I am not doing anybody's bidding with my remarks but simply reacting to issues that are happening in my country.
What is more, my comments were not aimed at casting aspersion against the person or government of Mr. President.
Far from that!
I joined partisan politics in December 2000 at the age of 24, when I officially became a member of the defunct APP at my ward, Kawaji in Nasarawa Local Government Area of Kano State.
Attack on Buhari: Ganduje suspends media aide
Kano-Ibadan railroad: Ganduje's aide challenges Buhari
At that time, Kano State was PDP-controlled under the then governor, Rabi'u Musa Kwankwaso.
So, I entered politics as an opposition member in my state. As at that time, I was contesting for the position of a councilor at my ward, which ended with my losing the primary election in 2004.
Pioneer Buharist
In 2002, I was in All Progressives Party (APP) when President Buhari picked the membership card of the party and officially joined politics to run for the presidency in the 2003 elections. At that time, I and millions of people particularly from the north welcomed this decision by the President with enthusiasm and zeal and we supported him 100%.
We were basically the 1st set of the so-called 'cult-like followership ' of the President, simply because we believed in him to deliver and lead this country to prosperity.
He came into politics as someone people trusted and whom they see as an upright person that they can vouch for, earning him the nickname 'Mai Gaskiya'.
We campaigned for him through thick and thin, street to street, the young and the old, and when it was election time, I was assigned by my party leaders at my ward to be the returning officer of our party, APP, for the presidential election which Buhari was contesting for.
We fought PDP hard at my ward to ensure that we delivered the ward to him in the election.
I did not sleep for almost 48 hours then, because I had to accompany the results to the local government collation centre to ensure that the results were not altered.
President Buhari did not win the 2003 general elections, but our party, the defunct APP won the governorship election in Kano State, which ushered in Mallam Ibrahim Shekarau as the new governor of the state.
But soon after that, there was friction between his camp and that of President Buhari, which later on after the 2007 elections led to the creation of a new political party formed by Buhari, that is Congress for Progressive Change, (CPC).
First meeting with Buhari
I, and my political leader at that time, Hon. Balarabe Wakili, a former member representing Nasarawa Local Government in the House of Reps (2003 to 2007) decided to pitch our camp with the President and not with Mallam Shekarau, and it was through Hon. Wakili that I first visited the President on a solidarity visit back in the early stages.
It is still in CPC that I contested for the State Assembly, which we suffered a lot because of the factionalization of the party that led to a lot of bickerings.
Ultimately, I neither got the ticket nor did our party win the election.
May I use this medium to thank the current Minister of Humanitarian Affairs, Hajia Sadiya for the role she played in my election back then when she was the National Treasurer of CPC.
My surrogate father-in-law
The President, also served as my wife's guardian during our wedding in 2006 on behalf of her late uncle, AVM Mukhtar Mohammed who was a very close associate of the President.
May I use this opportunity to tell my wife's guardian that 14 years after he gave her hand in marriage to me, we are still living peacefully and blessed with 3 children.
We thank him for his fatherly role during the nuptial rites.
Back to politics, at the presidential level, I served as a member of the Welfare Committee of the Presidential Election of Muhammadu Buhari, with the current Minister of Water Resources, Hon. Sulaiman Adamu Kazaure as the chairman of the committee, during the 2011 presidential election.
After the formation of APC, I also served as a member of the Youth Committee during the 2015 elections, crisscrossing this country to campaign for the President which we eventually won and Buhari was ushered into government with popular national support.
Now having given the background of the long-term relationship between me and the President spanning 18 years to be precise, I have never known a political leader throughout my political career other than Buhari, even though I can count the number of times I've met him.
NEPU blood
I did not only wish for his success but I equally worked hard with everything that I've got for almost two decades to see his dream become a reality, and I will continue to stand by him.
When I see things that are going not the way they are supposed to, I naturally have that urge to try and express my concern about them, because I want things to work right.
I can understand, if by virtue of my position as an aide to a governor in the same party as the President's that I have limitations and somehow the spotlight is always on me.
But occasionally, despite suppressing my opinions,
I find the NEPU blood in me triggering me to react.
This is in no way, meant to undermine the President or my dear party, APC.
Apologies to Ganduje
To my boss, His Excellency, Dr. Abdullahi Umar Ganduje, OFR, I want to use this opportunity to apologise for putting Your Excellency in an uncomfortable position due to my personal opinions.
It is indeed something that I never intended to happen, and I am not happy about it a bit. I do not have a boss-and-aide relationship with Your Excellency; I rather have a father-and-son relationship with Your Excellency.
Indeed, I appreciate the support Your Excellency has been according me in the last five years, and I will continue to remain loyal to you and serve my state and my country through your government and in whatever other capacity.
At the end of the day, our prayer is for Nigeria to be great.
In the words of Barack Obama "Do we participate  in a politics of cynicism, or in a politics of hope?"
I am an optimist, and it's our ardent HOPE that we will have the Nigeria of our dreams in which development and prosperity will be the norm rather than the exception; a country we can build a secured future for our children and generations yet unborn.
May we continue to do our best in ensuring this is the Nigeria that our forefathers sacrificed their lives for to lay a solid foundation.
Long live the Federal Republic of Nigeria.
Salihu Tanko Yakasai, Governor Ganduje's suspended media aide writes from Kano.
OPINION: With due respect Mr. President, Nigerians are suffering
By Adnan Mukhtar Tudunwada
With the increase in fuel price amid closure of borders due to COVID-19, increase in electricity tariff, insecurity, lack of access to good roads, hospitals and other basic amenities; it's an understatement to say that Nigerians are suffering.
President Muhammadu Buhari was the last hope of the common man in recent years.
But many now doubt whether it is the Buhari of yesterday that is leading Nigeria today.
If not for the little improvement on the fight against Boko Haram, I can say that the Jonathan administration performed better than that of Buhari.
New electricity tariff: Only the rich are affected – KEDCO
Outcry as grain prices soar in Kano
I don't have to go into any comparison with previous governments, but it is a duty for government to account for what it is doing.
It is a duty for active citizens to ask questions like where we are and where we are heading to.
Since the coming of Buhari to power, the electricity tariff has never gone down.
The petrol price will plummet for just few days or weeks and astronomically skyrockets again.
Unfilfilled promises
Mr. President made so many promises that are yet to be fulfilled. On the economy, the government has done a wonderful job in the area of farming.
But farmers' access to fertilizer is still not impressive as expected.
There is rapid development in rice farming.
Nigeria is doing well on this sector, but we still have a long way in making the agricultural economy of this country money-spinning, like in other countries.
Where are we in making the refineries active?
What about the Kaduna refinery that we were told is going to start working before the end of Buhari's first term?
Mr. President, where are we in reducing the cost of governance for political appointees and more especially the running cost of your government?
I am sure so many Nigerians will not forgive him for making them to believe that he was the only messiah, who can rescue the nation's ship.
Failed government
The gruesome killings in Katsina, Zamfara, Sokoto, Benue and Plateau States because of bandits and farmers-herders clash, together with the kidnapping of innocent citizens by gunmen on our highways is enough testimony of the failure of Buhari government.
One thing that makes life pleasurable for citizens is access to constant electricity and water supply, good roads, health care services and job security.
But of none aforementioned has improved under Mr. President.
The worst is the failure of the President to unite his appointees. There is inter-agency rivalry.
It was Magu and Malami, Abike Irewa and Pantami, Ngige and NSITF, Keyamo and NDE, NSA Babagana Monguno and Late Abba Kyari, all under the watch of PMB.
Nothing in this country is making the common man excited as was envisioned before President Buhari assumed office.
Care-free attitude
There is increase in the price of food stuffs.
The local rice is today being sold at either N23K or N24K, while the foreign rice is close to N30K.
Where will the meager salary of N30K as minimum wage take workers to?
How will a worker pay for his rent, pays school fees for his children, among others?
It is apparent Mr. President seems less bothered about the state of the nation.
He does not even care to address Nigerians in their hardship.
This is totally unacceptable, and reprehensible.
It is time for the President to address the deplorable condition of diverse sectors of the country's economy.
He still has three more years to bequeath a lasting legacy.
But before that time, I say, and with due respect Mr. President, Nigerians are suffering.
Adnan, a Kano-based  journalist can be reached via: Adnanmukhtaradam@gmail.com, or Twitter: @adnanmouckhtar
Ganduje's Covid-19 response strategy and the challenges By Muhammad Garba
While one is filled with hope that it is relatively safe now to say that the administration of Governor Abdullahi Umar Ganduje is tenaciously fighting the war against the deadly COVID-19 pandemic, given the numerous measures adopted to cushion the impact of the ravaging disease, the response strategy, right from the beginning, is faced with many unnerving challenges.
This is in view of the fact that the virus is a new challenge to the global health and particularly to developing nations like ours.
Some have even predicted that Kano, given its population and cosmopolitan nature will become Nigeria's epicenter of the novel coronavirus pandemic considering the rising number of cases then which were attributed to the influx of people from states with confirmed cases of the virus into Kano.
This has created community transmission with asymptomatic carriers.
With no personal protective equipment then except surgical masks and lack of knowledge of the proper protocols on the preventive measures, 50 health workers in the frontline were infected with the virus.
Even the co-chair of the state Task Force on COVID-19, Prof. Abdulrazak Garba Habib and some other members were infected and have to be admitted to the isolation centre for treatment protocols.
This is in addition to the fact that from the onset many still think the coronavirus is a hoax, while others believe that a COVID-19 diagnosis is a death sentence, and do not want their neighbours to think they are infected.
So they avoid being tested, and try to behave as if all is normal.
They go to burials, and shake fellow mourners' hands because it would be socially unacceptable not to.
They shop, barefaced, in crowded markets and even hold soccer tournaments in the city.
First to accept threat
It is also on record that Kano was one of the first states to decipher the threat even before it occurs and start planning ahead of the epidemic.
It was followed by momentous pecuniary investments into preparedness and surveillance in collaboration with the Presidential Task Force (PTF) on COVID-19, Federal Ministry of Health (FMOH), state Ministry of Health and the Nigeria Center for Disease Control (NCDC), which have been working closely with partners and other stakeholders to coordinate and review the response strategies and implementation activities on a daily basis in order to effectually contain the spread of COVID-19.
Testing for COVID-19 was started in Kano on April 21 with only one testing lab which had to close due to contamination.
At that time, samples have to be sent to Abuja for analysis where in the process, sometimes, the sample got contaminated.
That itself caused delay in announcing how many positive cases have been detected in the state.
A team of medical experts had to be deployed to Kano to facilitate in reopening the testing centre after it was fumigated.
In appreciation of the response strategy by the Ganduje administration, when he visited Kano as part of his assessment tour to the state to assess the state response to the pandemic, Director General of the NCDC, Dr Chikwe Ihekweazu, commended the state government's response to the fight against the deadly COVID-19 pandemic in the state.
The DG was also quoted to have said recently in an NTA's Good Morning Nigeria, that Kano is testing more than any state in the country.
While the NCDC sets 100 benchmark of sample collection per state and with five molecular testing centres to enhance detection and effective response to the pandemic,  Kano state's sample collection goes up to hundreds and strengthening and stabilizing the position also led to drastic drop of the pandemic in the state. Even with the five testing centres Kano still take some of its samples to Abuja for testing.
Mysterious deaths
However, when I watched one of the televised daily Presidential Task Force on COVID-19 briefing by the Hon. Minister of Health, Dr. Osagie Ehanire, announcing that 60% of the "mysterious" deaths recorded at the peak period of the COVID-19 pandemic in Kano may have been triggered by or due to the virus, I find it difficult to fathom the report.
One is not surprised at this because, even while the investigation then had yet to commence, coordinator of the Ministerial Team on COVID-19 and Permanent Secretary, FMOH sent to Kano, Dr. Nasir Sani Gwarzo, an indigene of Kano state and medical epidemiologist, jumped to the conclusion that suggested that COVID-19 was the cause of the deaths.
His claim was however, brushed by the minister of health when appeared before members of the House of Representatives during plenary.
He told members of the Green Chamber that investigations into the deaths are of three streams and there is no result yet linking them to COVID-19.
Ehanire even denied Gwarzo making that statement.
Said he: "There was never a case of him (the task force coordinator) saying 80 per cent of people died from that or any other disease at all….The person did not ever say that the people died from coronavirus."
Based on my understanding of how this collaborative efforts aimed at battling the deadly pandemic works, the FMOH ought to have share its final report with the government of Kano state before sharing it with the media.
Verbal autopsies
That was what informed the decision by the government of Kano state to institute its combined team of experts from the state Ministry of Health and development partners, including the World Health Organization (WHO), National Centre for Disease Control (NCDC), AFENET and Lafiya Projects all under the under the leadership of Dr. Muktar A. Gadanya to undertake a study of the situation.
The report by the PTF team believed its "verbal autopsies" found that a total of 979 deaths were recorded in eight metropolitan local government areas in the state at a rate of 43 deaths per day, compared with the typical death rate of roughly 11 deaths per day, while the peak in deaths occurred in the second week of April, and that by the beginning of May, the death rate had gone back down to the normal rate.
However, the report of the team of experts by the Kano state government, which was presented to Governor Abdullahi Umar Ganduje, indicates that only 15.9 per cent of deaths recorded during the ugly incident between March and April has countered the comments made by the Minister of Health.
While presenting the Mortality Review (Verbal Autopsy) findings by the Team, the Lead Consultant, Muktar Gadanya, a Professor of infectious diseases from Bayero University Kano (BUK), disputed the minister's comments which was based on findings by the Ministerial Taskforce Team on COVID-19, led by Dr. Gwarzo, which earlier stated the large number of the mysterious deaths were caused by COVID-19.
The team of researchers discovered that about 1,774 deaths were recorded, but were able to trace the relatives of about 1604 of the deceased, which represented over 90 per cent of the total figure.
He maintained that out of 1,604 cases traced, only 255 victims, representing 15.9 percent cases of deaths were linked to COVID-19 pandemic.
The team, however, alluded the remaining deaths to diseases related to hypertension, diabetes, malaria and other commonly identified ailments, including self-medication by victims.
As at July 24, 2020, 37, 512 samples were collected in the various testing centres, while 27, 219 of the samples were tested out of which 1, 452 have been confirmed representing 5.33 per cent.
Also, 1, 190 cases were discharged with 209 confirmed cases on treatment and 53 death which represents 3.65 per cent mortality rate. 3, 131 contact tracing were initiated and carried out.
Available data on date of releasing the result of cases under review indicate that the highest case of 80 was recorded in the state on May 5, 2020, while there was zero case on July 4, 2020.
Of the total 53 mortality rate recorded during the period under focus, nine patients died from the disease on the April 25.
As at July 24, 2020, 37, 512 samples were collected in the various centres, while 27, 219 of the samples were tested out of which 1, 452 have been confirmed representing 5.33 per cent. Also, 1, 190 cases were discharged with 209 confirmed cases on treatment and 53 death which represents 3.65 per cent mortality rate. 3, 131 contact tracing were initiated and carried out.
Also, available data on date of releasing the result of cases under review indicate that the highest case of 80 was recorded in the state on the May 5, 2020, while there was zero case on July 4, 2020.
Of the total 53 mortality rate recorded during the period under focus, nine patients died from the disease on the April 25.
Community sample collection
The state government also piloted community sample collection in 10 high risk settlements across two local governments of Gwale and Kano Municipal Council.
The sample collection was implemented across 62 wards of six local governments which resulted in the collection of over 24,000 samples.
This include Nassarawa with 11 wards and 3, 659samples collected from which 45 were confirmed positive; Gwarzo 11 wards, 4, 030 samples and 45 confirmed cases; Kumbotso 11 wards, 4, 165 samples and 51 confirmed cases. The rest are Wudil which has 11 wards, 5, 175 samples collected and 3 confirmed cases; Dambatta has 10 wards and 4,096 samples were collected with 10 cases confirmed; Tarauni with 10 wards where 3, 735 samples collected and 8 cases conformed.
There are also plans to scale up the collection to other local government in both rural and urban areas.
At the sample collection sites, measures adopted in the operation include identified and activated 16 sample collection sites within the metropolis, engaged public and private clinicians on referrals, linked Acute Coronary Syndromes (ACS) and contact tracing to sample collection sites, awareness through community and religious leaders, improved data management, decentralization of data collection to field teams, daily review of HF and Community (ACS) tracking, identification of hotspot through GIS, Home Base Care Management,  Adopted and developed Home base care Standard Operating Protocols (SOP) for Kano State,  rolled out Home Base care across the State, Sixty Two (62) patients on Home Base Care.
Capacity development
The COVID-19 response strategy involves aggressively improved staff capacity in disease surveillance and response, infection prevention and control, laboratory, risk communication and community engagement, case management and POE.
Since the beginning of the outbreak, 842 clinicians and response team were trained thrice on contact tracing and active case to improve number of persons reached, while 11 training sessions were organized for 9,036 health workers on case detection, triaging and management of health care waste.
To ensure effective focus on all sample collection, biosafety and sample transportation, lab personnel, 110 medical records officers were drilled, 9, 252 media personnel, religious leaders, traditional leaders on community sensitization and safe behavior practice, community referral and identification of suspected cases, 264 clinicians, local government Primary Health Care Team on Patient management and home base care, while 252 road transport workers were trained on Point of Entry (POE).
These training helped increase the capacity of health professionals to detect COVID019, as well as increased awareness and compliance with the NCDC's take responsibility campaign amongst various groups.
Governor Ganduje engages media agencies during the fortnightly press briefing on COVID-19 at the state Government House.
Also as part of its risk communications activities, the Task Force in collaboration with other organisations has produced and shared multimedia content, including videos, infographics and audio jingles targeting different demographics. T
his has helped increase awareness about COVID-19 and enlightened many on how to protect themselves and stay safe.
Despite the daunting challenges and the successes being recorded in the COVID-19 response aimed at stemming further spread of the pandemic and the unrelenting commitment and political will in leading the response strategy, Kano is winning the war against COVID-19.
As evidenced by the above statistics which indicate a downward movement in the spread of the disease, the state is recording a major breakthrough in the curtailment of the pandemic.
Muhammad Garba is the commissioner, Information, Kano state.